Update from the field – Kaxuyana host regional Indigenous conference.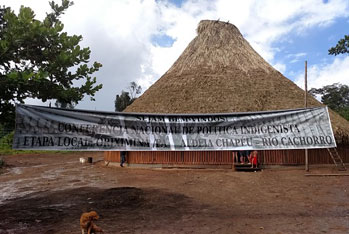 Dear all I am writing this on behalf of the Equipe de Conservacao da Amazonia _ ECAM, Brazilian partner of the Regnskogsforeningen. ECAM's teams have worked with indigenous communities in the Brazilian Amazon since 1999 and formally creating the organization in 2002.
From the 14th to the 16th of May, the Kaxuyana hosted the first regional conference on Indigenous Policy at the village of Chapeu on their traditional lands. Over 200 indigenous representatives of other tribes from the region and the state of Para together with NGO and government partners joined the Kaxuyana over three days of discussions on vital topics of indigenous policy including indigenous land rights, support for indigenous culture, education and health care.
ECAM and the project supported the organization of the event which was led by Angela and Juventino Kaxuyana, both collaborators of the project. One of the important topics discussed was how to continue to promote indigenous and local peoples' rights to their traditional lands including the lands of the Kaxuyana . These first meetings led by the indigenous communities themselves are crucial to collect and register the local realities and to bring these realities to the larger national conference which will happen in November of this year. Local delegates were also chosen to represent the region at the national conference. Three Kaxuyana will help represent the region.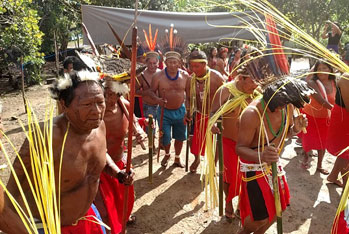 In additional developments on the 19th through the 22nd of april, the Kaxuyana, Tunuyana and Kahiyana held elections for AIKATUK their association. The project is helping to strengthen the association to better represent the communities and develop projects for the benefit of the community. Juventino Kaxuyana was re-elected as president with a majority of the votes will the second place finisher Mauro Kaxuyana was appointed vice-president of the association. Two Kaxuyana women were elected as part of the executive committee, which consists of six officials. This was a first for the association. The terms of the elected representatives will run three years.