We are the Riverine communities
Who are the people living in the Amazon? This article is part of a series dedicated to the people involved in our supported projects, without whom the rainforests would never be possible to protect in the long run.
This time you can learn more about the Riverine communities.
The full article series can be reached from this site.
Riverine communities are traditional populations in South America working with farming and small scale fishing. Riverine communities live along the rivers and lakes in the Amazon region as well as other regions in Brazil. They are the most numerous rural populations in many parts of the Amazon basin, and also among the poorest. There is an important lack of data on this population.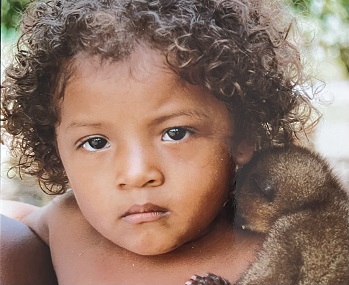 Flickan Mikele lever med sin familj längs floden i Amazonas (Rio Guaporé, Rondonia). Bild: Teresa Soop
Within the project run by Ecam with support from Regnskogsföreningen, the riverine communities have been identified as a key ally in the protection of natural resources including the biodiversity of the Amazon rivers. The project counts as its main partner the riverine representative organization ACOMTAGS which receives project technical and legal support since 2020.
The project also address the lack of data issue by supporting an extensive survey using the Social Progress Index (SPI) methodology of over 30 riverine communities in the project area. This has contributed to better insight into the realities faced by this marginalized community. Main threats faced by these communities include resource depletion from predatory fishing and illegal logging, impacts from infrastructure operations including transportation of mining products by large vessels and planned energy lines through the regions these communities inhabit. An additional challenge in these cases is the lack of official recognition of these communities and their rights to their traditional way of life.