We are the cattle ranchers
One of the major threats to the rainforest is unsustainable beef production in Brazil. Our pilot project, together with the Brazilian Amigos da, Terra - Amazônia Brasileira, analyzed the role of the beef cattle in deforestation in the Brazilian Amazon in 2008, and significantly contributed to making the issue known.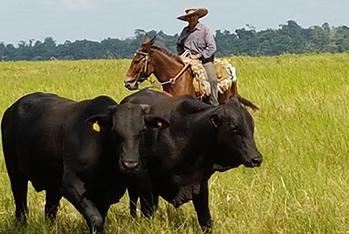 Nötkreatursuppfödning. Bild: Ulf Rasmusson
Since then, technical support to cattle ranchers who were interested to change their ranching practices has been provided through Regnskogsföreningen, and the successful results have been shared, incentivizing other ranchers to change their practices as well. The project successfully contributed to ranchers changing the forms of housing farming and reducing deforestation in the area.
One part of the project focuses on strengthening and scaling up the sustainable cattle ranching work in a number of municipalities that make up the Calha Norte region. This far, the project has been part of our collaboration with Ecam but since 2022 Regnskogsföreningen has a direct collaboration with ViaVerde consultants who provide technical assistance to the ranchers. The project is done in direct partnership with primary stakeholders, including both large and small local cattle owners.
More details are found in this text and short videos.